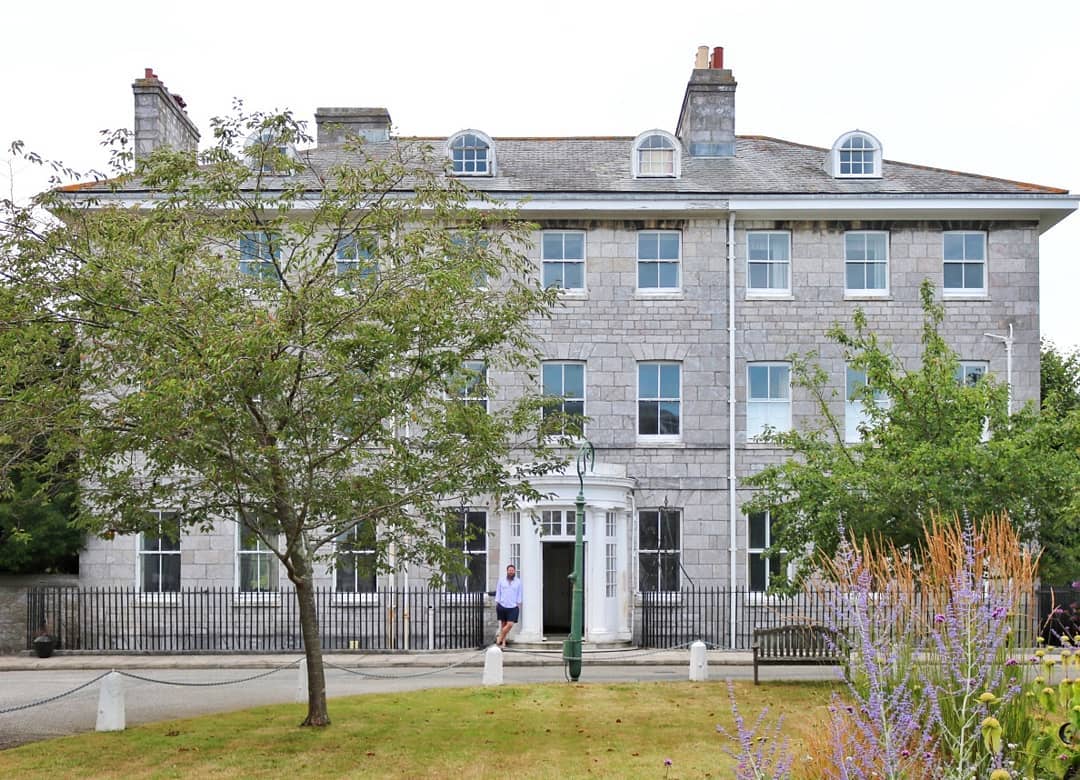 Greg Penn, perhaps better known as @manwithahammer, is the DIY aficionado responsible for restoring the magnificent ex-naval Georgian property 'Admirals House', a project eagerly followed by Greg's 110,000-strong Instagram audience.
Between ripping up floorboards, crafting DIY headboards, and completely re-plumbing his historic 5-storey abode, Greg talked to us about what made him first fall in love with Admirals, and his top tips for bringing colour and pattern into your home.
Greg, Admirals is a magnificent property. What was it exactly that first made you fall in love with it?
Ah there was so much I loved.... initially, before viewing – I could see from the floor plan the sense of space and scale was great and the layout really worked for me... it's also in a fantastic location, being on the site of the old Royal Naval Hospital, Stonehouse – which is now very close to the centre of Plymouth (so a quick walk to bars, restaurants and most importantly, the sea!).... but because the whole hospital is within 18ft high stone walls, originally designed to keep the sick and injured sailors from escaping, it feels like a little calm village like oasis in the middle of the city. Then when I actually looked around, once I'd gotten past the state of the old girl – it was absolute love at first sight... the original features... the oval entrance hall... the light and space – I loved it all!
How would you describe your interior style?
It's evolving.... I am learning all the time, absorbing as much as I possibly can.... it's also really influenced by Admirals.... before this place I'd never really used pattern or wallpaper but, there's something about it that just feels so right here. I feel like I make it up as I go along, and am still a novice, but I think I would (generously) describe what I'm trying to achieve as a slightly modern twist on the classic, traditional English country house, with a few surprises!
Which room in your home is your favourite and why?
It's so hard to pick one as I love them all for different reasons. The bedroom (no7) where I used the Summerby paper is one I'm really thrilled with, it's got a really sweet, calm feel – which isn't something I've ever achieved from a room before so I'm quite proud of that one – but I can't pick a favourite!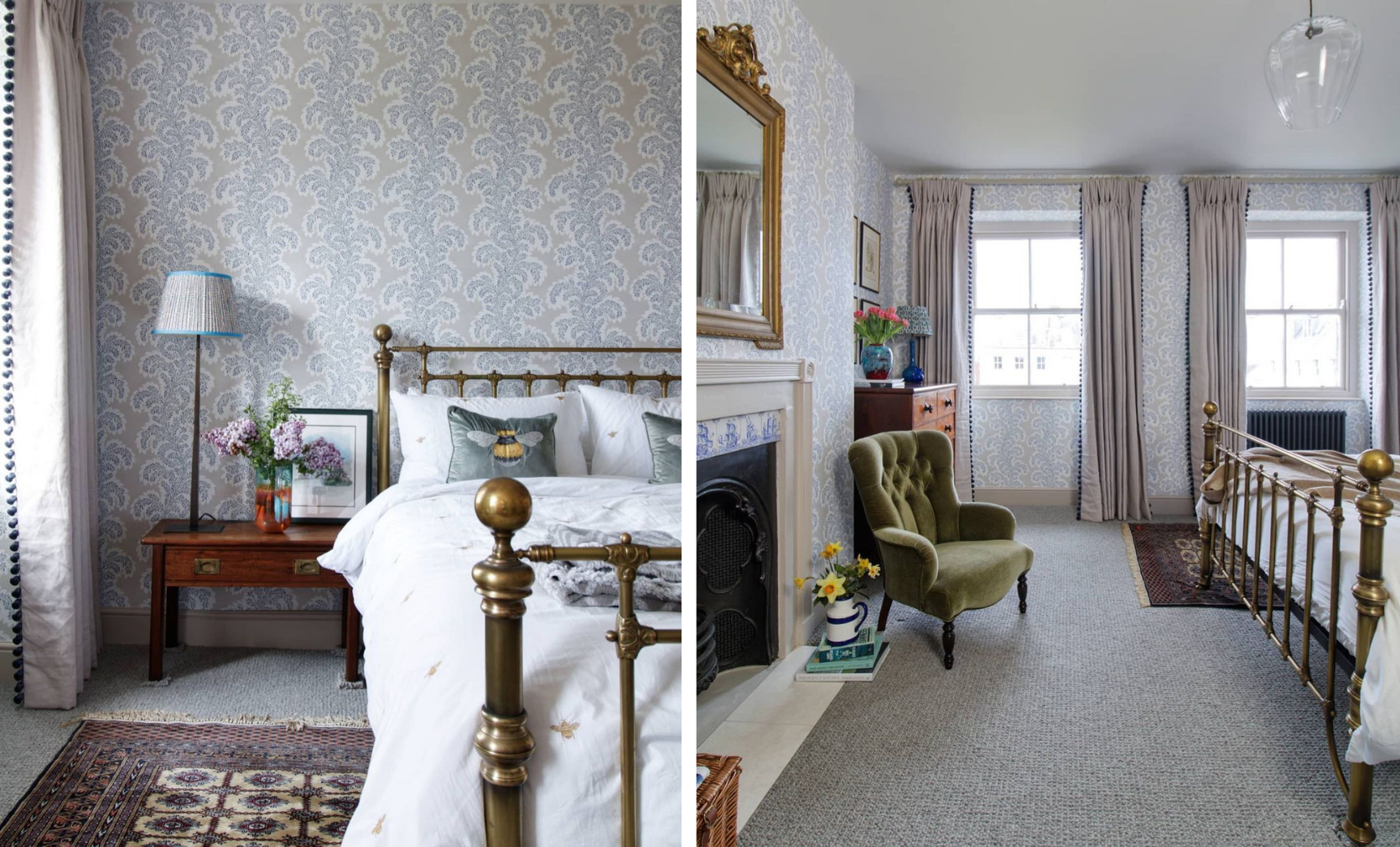 Bedroom No7 features our Summerby Wedgwood wallpaper and curtains in Campbell Parchment linen with Blue Onion Fringe embellishment
Where do you get your inspiration from?
I spend a lot of time on Instagram – Pinterest too – and beyond that, interior design magazines. In the age of social media and Instagram, where we've more access to images that would previously have been really hard to see – with most designers showcasing their work through their own social media pages, there's a wealth of inspiration out there – with designers like Robert Kime and Ben Pentreath really helping me to shape my own style.
Tell us a little about your process when tackling a new space?
Initially, it's the use of the room.... taking into account the aspect and light, and then the size of the space and working out the floorplan and layout for the room... getting a feel for how the space flows. After that, in terms of the design, I have to start with one thing – the biggest thing in the room, which are the walls.... so if I'm painting the walls then it's choosing the colour... if I'm using wallpaper it's picking that and a colour to compliment on the woodwork... and usually I wait until I've got that up before being able to think of the other pieces... fabrics... textures.... I don't have that designer's eye that can pull it all together at the beginning on a mood board... the process for me is slower... and evolves as I see it coming to life.
What advice would you give to someone wanting to experiment with colour and pattern in their homes?
Well.... I've always loved colour, but for a long time was scared of patterns... but first up – just – go for it! It's incredible how it can transform a space! If you're really nervous then introduce it in smaller items... cushions, throws... a statement headboard or chair... but for me, the best thing you can do is wallpaper all 4 walls... it sounds counter intuitive, but I think wallpaper on all 4 walls actually feels less 'in your face' than just doing 1 wall as a feature.... it flows.... and feels harmonious and even with quite a bold pattern, when it's on all 4 walls actually falls back a bit – and can be far more gentle than you initially thought. It's also great for making ceilings feel taller or adding interest to featureless rooms!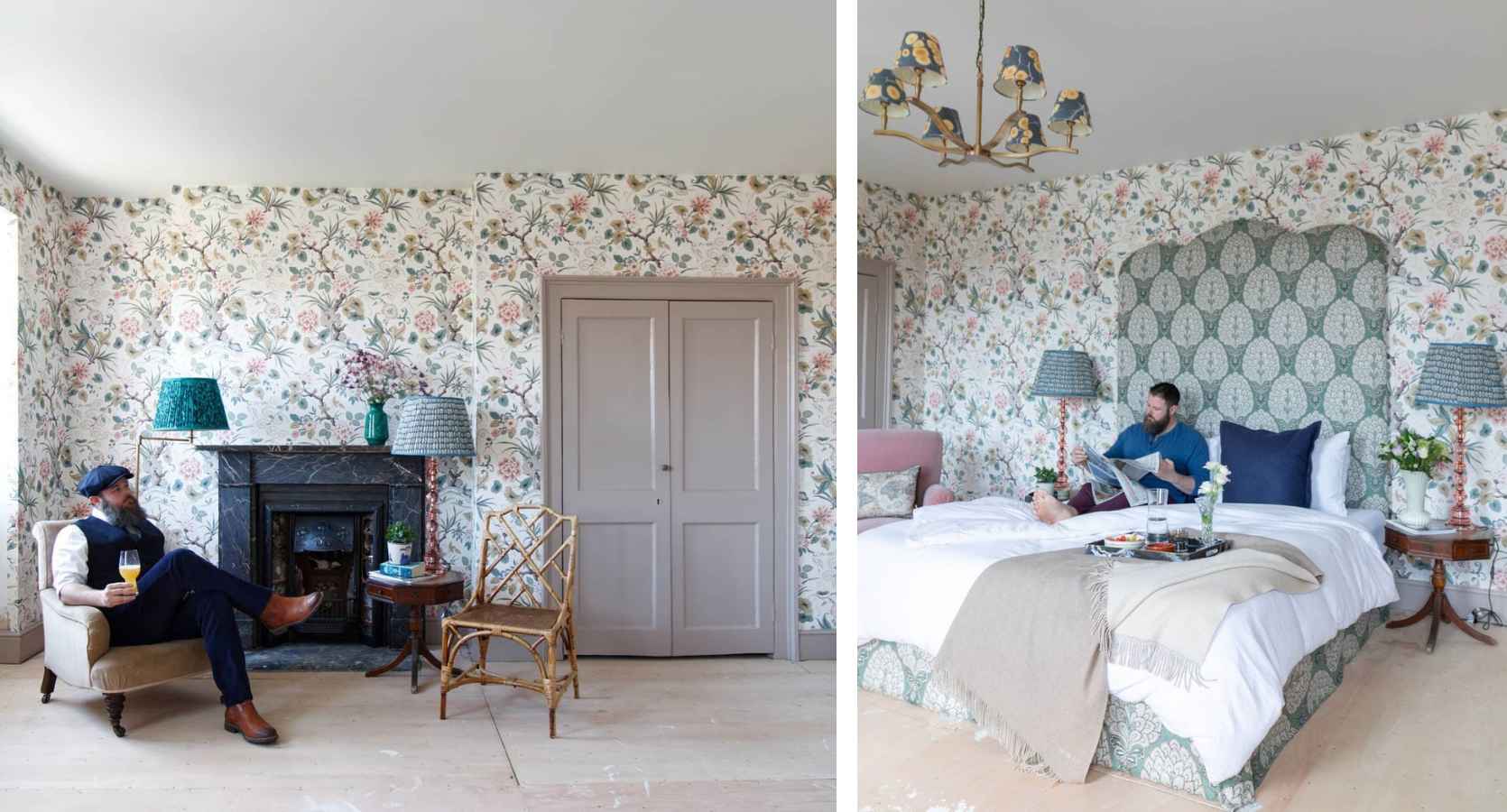 Fleurs Orientales Cameo wallpaper creates the perfect backdrop for Greg's latest room reveal, bedroom No4, and his DIY headboard is covered with our bold Sultan Jade woven fabric
What are your top decorating tips?
Prep, prep, prep and prep some more... it's really, really tedious... endless sanding, scraping, cleaning... and then repeat – but it really does make a world of difference to the finished product. I was brand new to wallpapering too – but it's definitely not as tricky as you think it's going to be – the quality of the Warner House paper definitely helps and it's paste the wall so no messing around having to soak paper or anything!
If you could only choose one Warner House design, which would it be and why?
You do like making life difficult for me don't you?! Blimey – I'm not sure I could choose one! I absolutely adore everything I've used so far, it's actually been really hard choosing what to use because there's been so many I've loved (and a huge thank you to your interior design consultants Hayley and Alisha who have been endlessly patient with me)... Of all of them, Jaipur always makes me smile in what is once the most horrible space in the house... the colours are stunning and the detail incredible – it's also quite good fun and doesn't feel like it takes itself too seriously – I'm all for having a bit of fun with your home!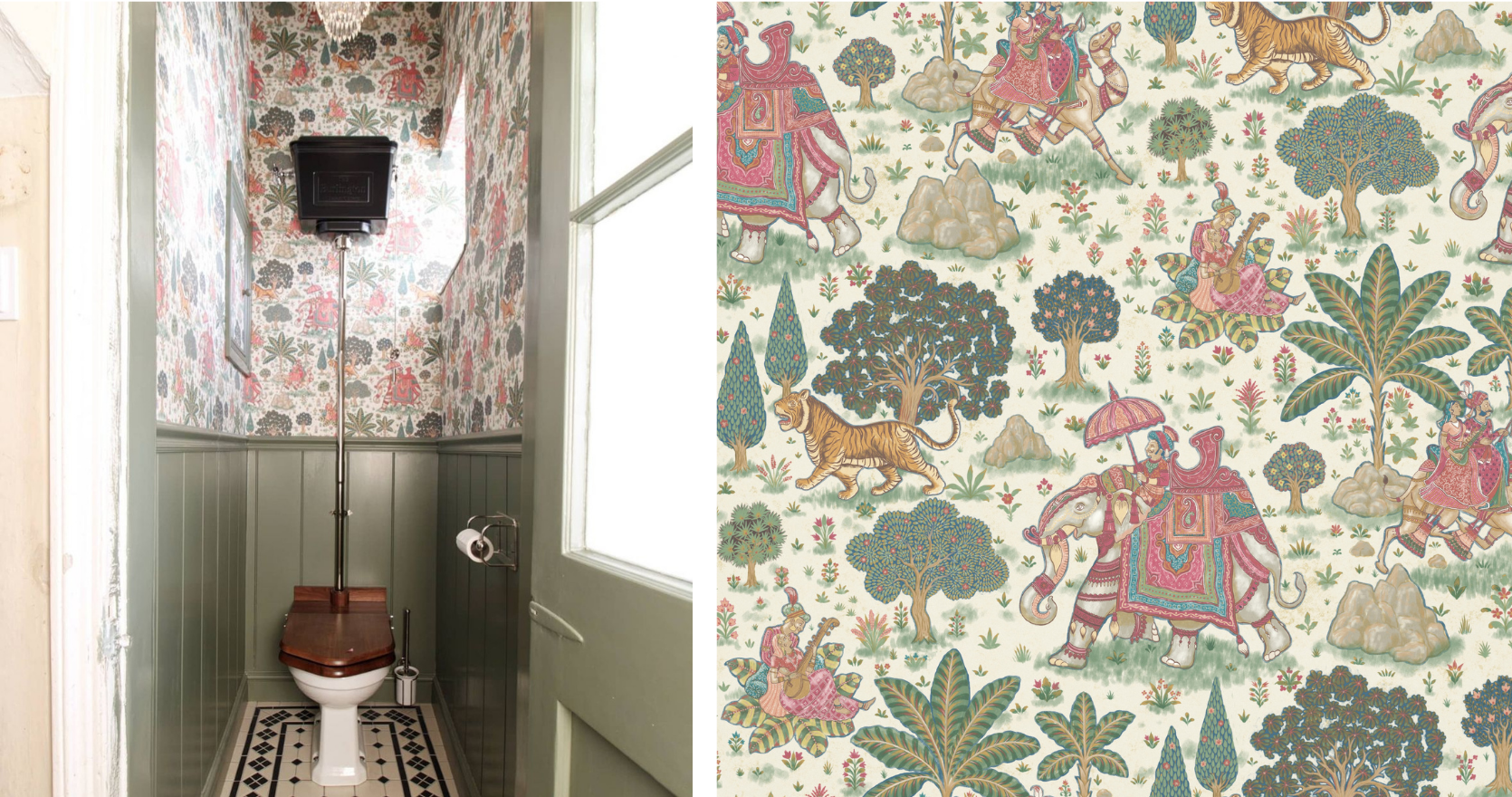 Greg's downstairs loo is a masterclass in how to pack a small space full of character, featuring our Jaipur Ivory wallpaper
What's the next project on the horizon?
Well – I'm just putting the finishing touches onto no4 – the bedroom on the 2nd floor at the front of the house.... and am currently making another oversized headboard using the 'Sultan' fabric in Jade which I think will be beautiful.... after that I can really get motoring with the bathroom on that floor – I am using 'Les Pecheurs' in there and can't wait to see it come together!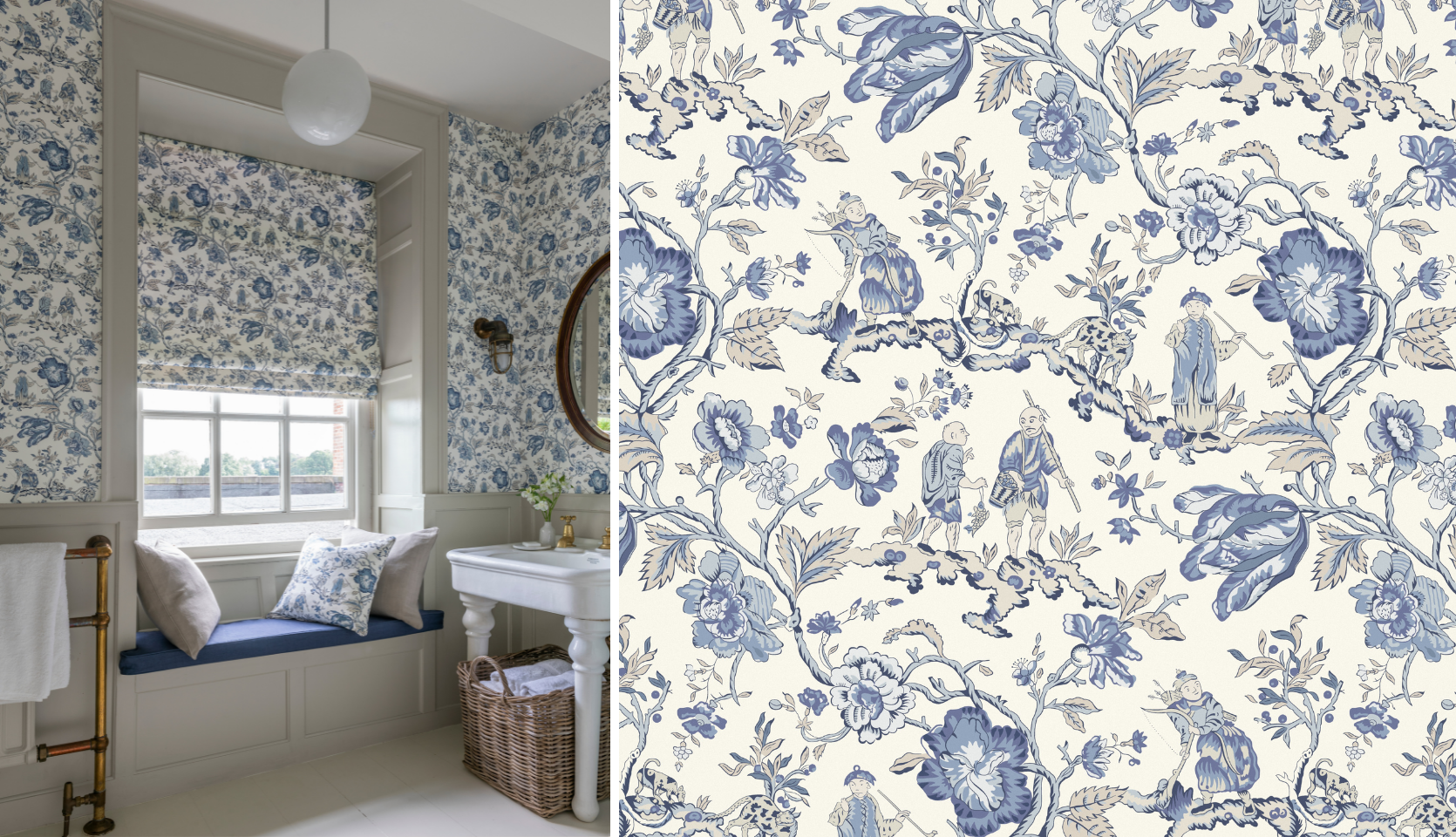 Greg's upcoming bathroom project will showcase our classical Les Pecheurs China Blue wallpaper, a timeless print depicting a late 18th century Chinoiserie style fishing scene
With many beautiful rooms under his belt, and countless more still to go over at Admirals House, you can follow this mammoth renovation project as it unfolds over on the @manwithahammer Instagram page.
Feeling inspired by Greg's journey? Discover the power of pattern for yourself and browse our extensive range of wallpapers, fabrics, furniture and soft furnishings.
If you need any help pulling your scheme together, or can't find quite what you're looking for, our customer service team are always happy to help. Simply drop them an email at [email protected]
Related Guides: