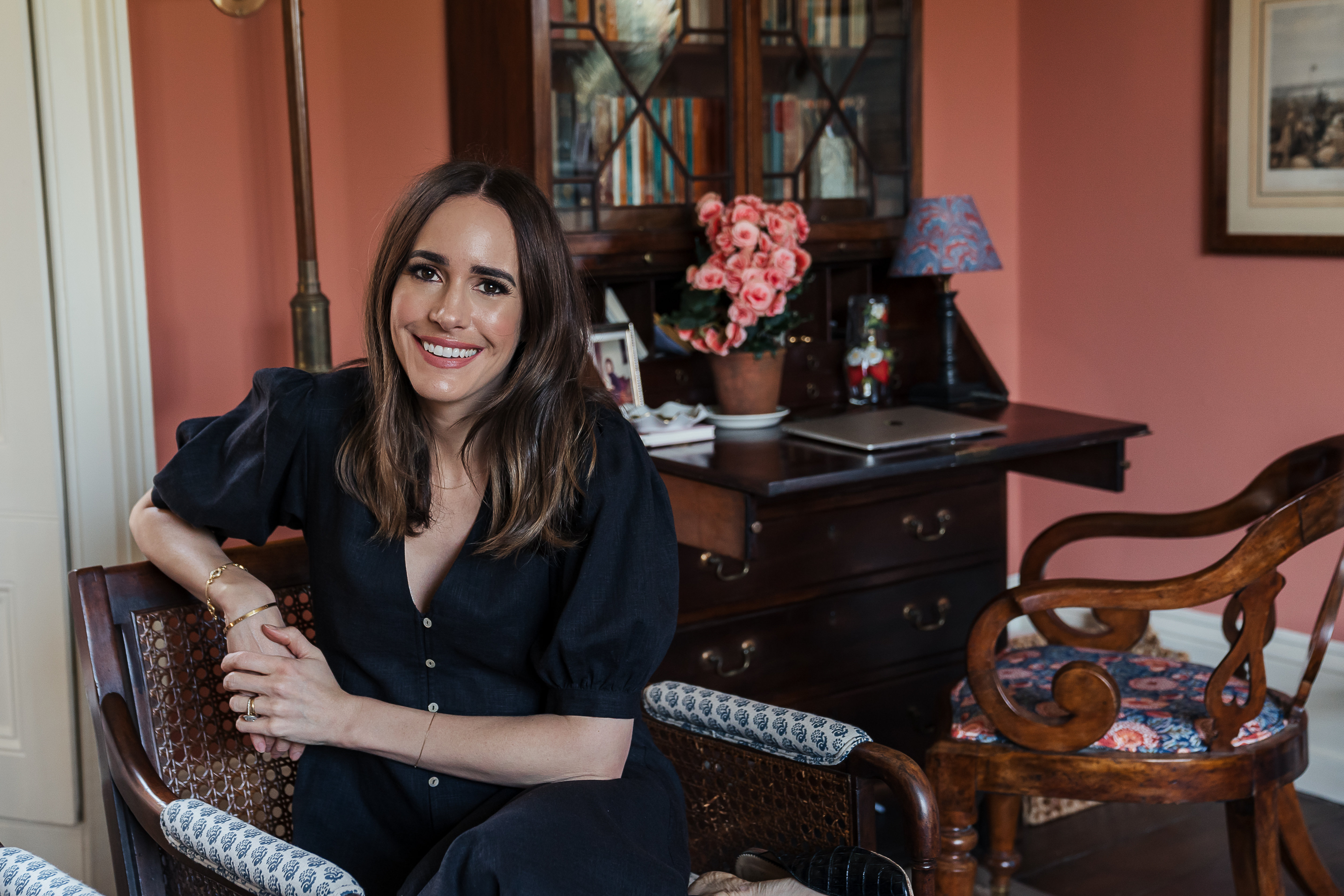 After more than a decade calling the sun-soaked city of LA home, fashion stylist and television host Louise Roe relocated back to England with her family. Their UK house-hunt led them to their dream Georgian Rectory and Louise embarked on her first renovation project where she quickly realised her passion for interior styling and traditional English décor.
18 months on from her beautiful Georgian renovation, and following the birth of her second daughter, Louise and family have left the picturesque Oxfordshire countryside to begin a new chapter back in the buzz of London, where renovations are well underway in their Victorian townhouse.
Upon her move back to the UK, Louise created @louiseroehome to compile her interior inspirations and share her renovation journey with her community of 127,000 followers. Now a busy mum of 2, Louise took some time out to chat about what inspires her and her top tips for embracing pattern in your home.
Louise, huge congratulations on your new home! We cannot wait to see your vision come together. How would you best describe your interior style and where do you get your inspiration?
I think it's quite traditional, and English. Although I am loving older Italian styles of decorating - the more reading and research I do!
What are the biggest lessons you've learnt throughout your interior journey?
I've learned how to plan a space from a practical standpoint - where should plug sockets go (I love putting one in the floor so you can have a lamp on a side table next to a sofa or chair). I think more about how we live as a family, where do we spend most time? What is the flow of the house? Those things I was less bothered by before we had children...
How do you ensure your interior choices remain timeless rather than being influenced by trends?
I'm sure they are influenced by trends even subconsciously because I'm obsessed with looking at every Instagram account, Pinterest page and interiors magazine. But that being said I know what I like, and that has deviated for quite a few years. So, I guess I just combine the two and hope for some balance.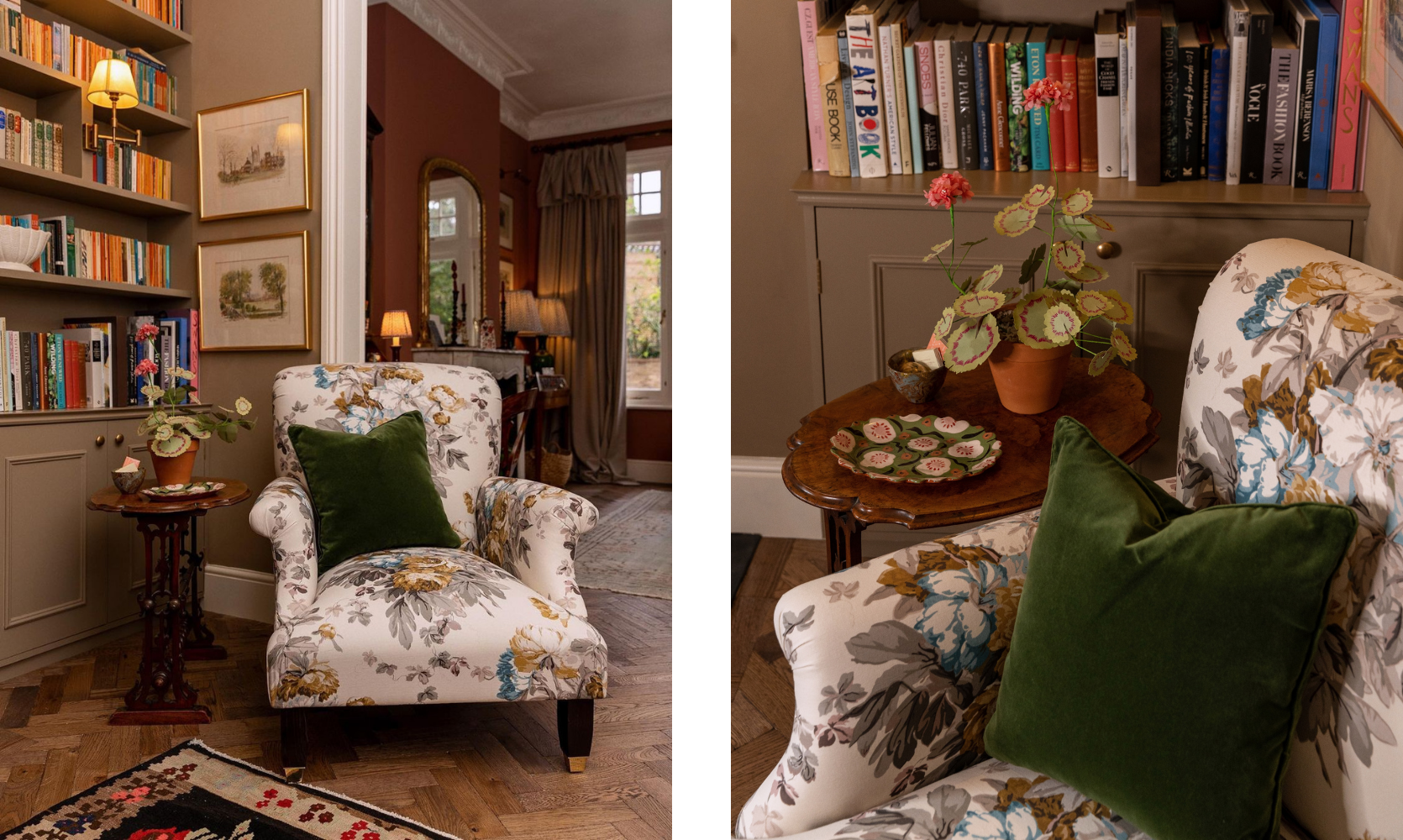 Louise's reading corner in the snug features our Bailey Chair in Large Peonies Ochre and cushion in Downham Juniper velvet.
How do you think your fashion background influences your interior style?
I think perhaps it gave me an idea of how to style different textures and prints together, and a love for making something look pretty!
Tell us a little more about your process when tackling a new space.
I collect lots of fabric swatches, tiles and painted tester pots. I begin to put together a colour and pattern palette. Plus, I also see what I already own in terms of furniture and knick-knacks, books and rugs. Could I take the rug from our old bathroom and reuse it this time in the living room? I did a ton of that when we recently moved to London, and it was like having a new collection of pieces, they look so different in their new surroundings.
Which are your top Warner House designs and why?
I love the floral armchair we have in our snug, upholstered in Large Peonies Ochre printed linen. The colours are very calming, and the design is a nod to chintz, which I adore. The Downham Juniper velvet cushion is so sumptuous and decadent, and goes really well with our bookcases, which are painted in a soft brown. I also love the collection of notebooks . Stationery is a favourite thing for me to collect and my motebook is always out on display on top of my desk, so it still counts as home décor in my opinion!

Large Peonies Ochre available as linen mix fabric and wallpaper
Downham Juniper velvet fabric
What advice would you give to someone wanting to experiment with colour and pattern in their homes?
Make a mood board first, whether that's on your phone or in real life, just to see how the colours play against each other. If you have an open plan house, remember the next room needs to compliment that scheme too. And don't be afraid - paint can be repainted! Have fun with it.
If, like Louise, you use mood boards as a starting point when planning a new project, take advantage of our carefully curated mood board collection. We have saved you a step with a tailored selection of interior schemes that allow you to see how pattern, texture and colour can live together in perfect harmony.
To keep up with Louise's Victorian renovation and be inspired by her traditional English interior style, make sure to follow along over on her Instagram page @louiseroehome. We cannot wait to see the rest of this renovation unfold.
If you would like some help pulling your own interior scheme together, our customer service team are always happy to help. Get in touch with them at [email protected].