The plan in resurrecting the historical Warner brand was not only to preserve its beautiful style and heritage, but also to focus deeply on the environmental impact and ensure that we do everything we can to source and produce considerately. This involves adopting the best practice throughout the business and committing to 'net zero' emissions from our operations.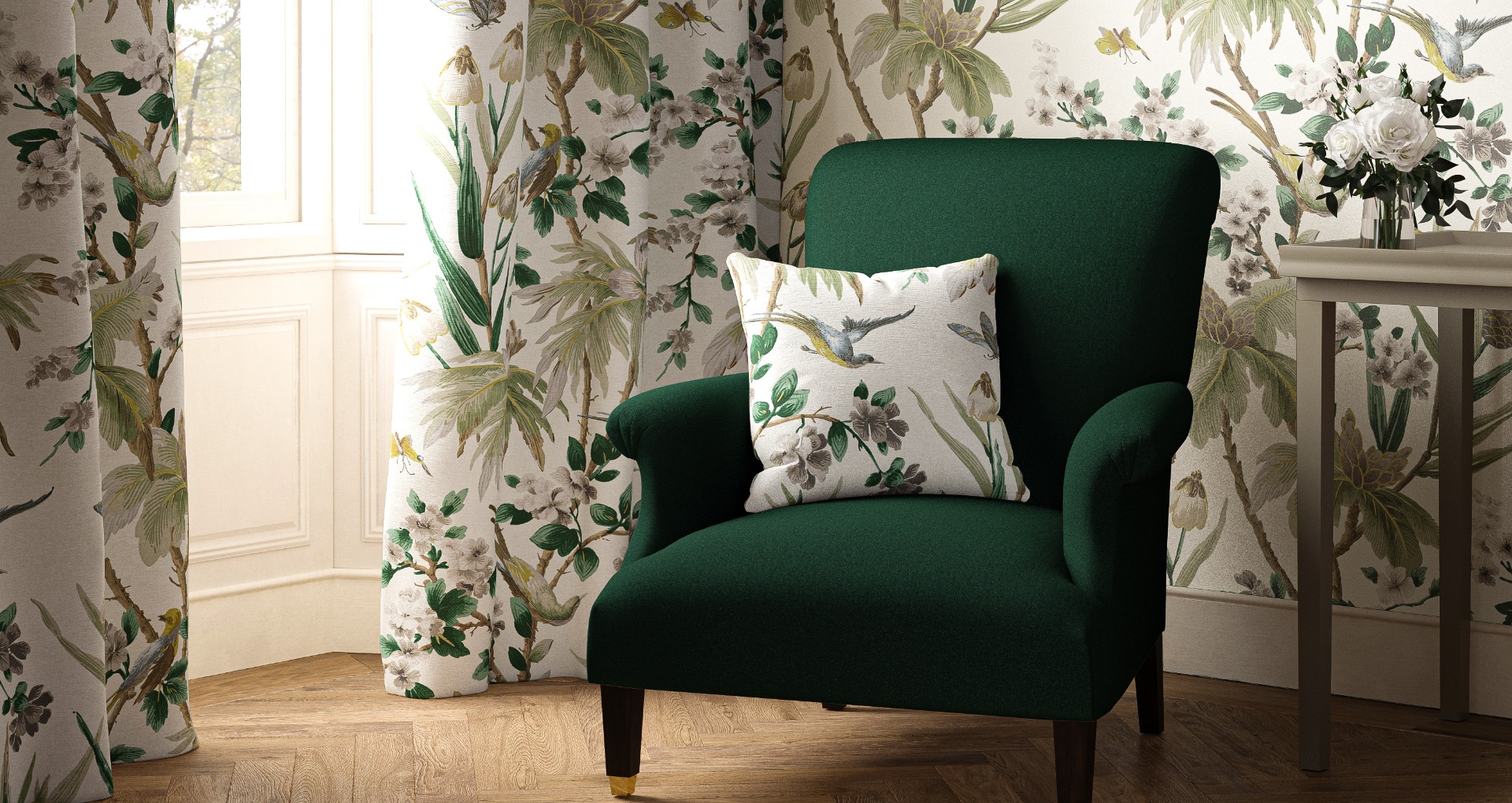 Production
Offering thousands of product combinations brings challenges. Stocking excess finished products can waste energy and resources. As far as is practical, we produce the majority of our products to order. Where we do stock items, we replenish little and often.
We continually consider our supply chain emissions with as many of our products as possible being produced in the UK and Europe.
Fabrics
The majority of Warner House fabrics are made in the UK. This includes our linens, woven in Scotland, and our cotton velvets, from Lancashire.
Our velvets and wool plains are both made in Europe with little waste, with the wool plains made from fabric recycled from the fashion industry.
Our printed fabrics are produced with the most eco-friendly of processes.
Our curtain lining is made with a blend of responsible cotton and polyester recycled from plastic bottles – it performs well and has a beautiful finish.
Paint
A lot of research and care has been taken to ensure that our paint range is as environmentally friendly as possible. Our paints are all water-based, non-toxic and virtually V.O.C free. Paint is mixed to order in the UK.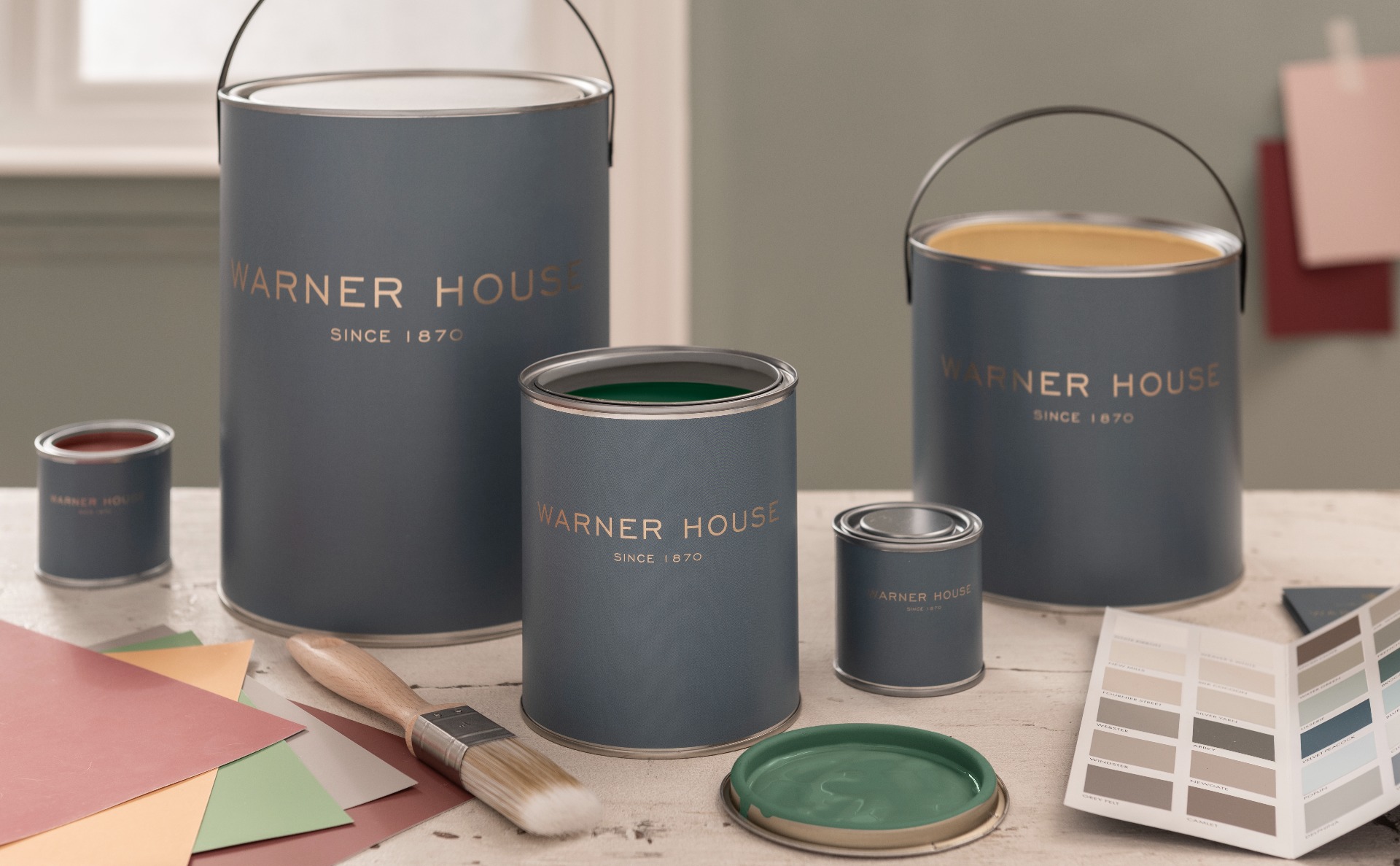 Wallpaper
Our wallpaper is printed to order in a local factory with the most sustainable HP Latex printers, using the safest water-based inks on paper from FSC sources. Printing to order reduces energy and the need for protective packaging for storage. Each order is carefully produced with an innovative individual packaging solution that excludes any plastic or cellophane.
Curtains, roman blinds and lampshades
On-site skilled artisans create our products by hand using traditional methods. Each item is expertly made to order, with guidance in place to avoid wastage of fabric or other manufacturing materials.
We have created a new high-quality curtain lining that combines recycled polyester from plastic bottles with responsible cotton.
Furniture
All our furniture is locally made using FSC wood, produced to order and built to last.
Packaging
All of our items are dispatched in 100% recycled and recyclable cardboard boxes. Where possible we also use eco-friendly kraft paper self-adhesive tape.
Paint fitments that ensure safe passage of our tins are made of moulded paper pulp recycled from over issued newspapers and cardboard offcuts.
Wherever possible, we have tried to minimise the use of plastic in our packaging, although some aspects remain challenging. The little that remains in our chain is under constant review to find a sustainable replacement.
Climate
2021 is the year of climate action, with the UK hosting the 26th UN Climate Change Conference of Parties (COP26) uniting the world to accelerate action towards the goals of the Paris Agreement and the UN Framework Convention on Climate Change. At Warner House we have started our journey to Net Zero and have committed to halving our carbon emissions by 2030 and to reach 'net zero' by 2050. We are working with designers and suppliers to develop a target and trajectory for net zero emissions way ahead of the 2050 target.
We are proud to have signed up to the #SMEClimateCommitment via the SME Climate Hub recognised by the UN Race to Zero campaign. We will halve our emissions before 2030, and reach net zero before 2050. Join us here.

Partnerships
Our partnership with (more:trees) means we plant a tree for every product order we receive. Since its introduction, this partnership has supported tree planting projects in Madagascar, Kenya and Haiti.
The future
This is just the start.
A lot of time has been invested in ensuring that we start as we mean to go on, with a supply chain and operation that both us and our customers can be satisfied with.
We pledge to constantly review our processes and procedures to continually identify opportunities to improve, reducing negative impact on the environment and increasing in our efforts to add value to our community and the environment.
We have made the following commitments to reduce the impacts of our operations:
1. Eliminate. single-use plastics from our supply chain and packaging by 2023.
2. Ensure all cotton sourced is GOTS (Global Organic Textile Standard) certified by 2023.
3. Measure the greenhouse gas footprint (all scopes) of our operations and implement a trajectory to Net Zero by 2050.